ABOUT US
THE SCHOOL WITH A RICH TRADITION
Grammar School "Veljko Petrović" is put on the list of schools with a rich tradition which gives its students a wide education and a lot of general knowledge. By doing so, it enables its students to become academic citizens.
Since its foundation in 1872, The Grammar School has had many important students: Veljko Petrović - a writer after whom The School was named, dr Sima Đurković-an academic, dr Stevan Koički - an academic, dr Bogdan Maglić - a physisist, dr Ivan Gutman - a chemist, dr Geza Barci - a linguist, Irinej Bulović - a bischop, dr Igor Pašti - the youngest doctor of science in Serbia and many other.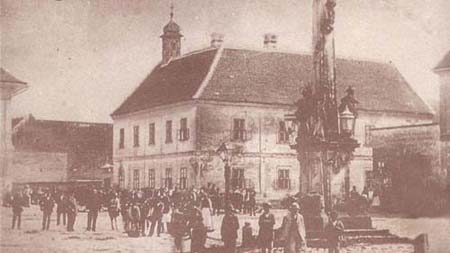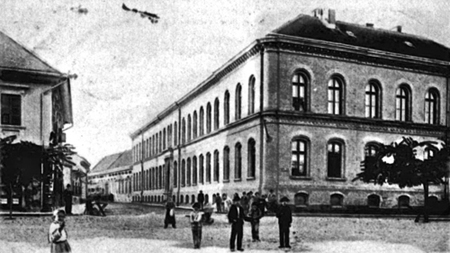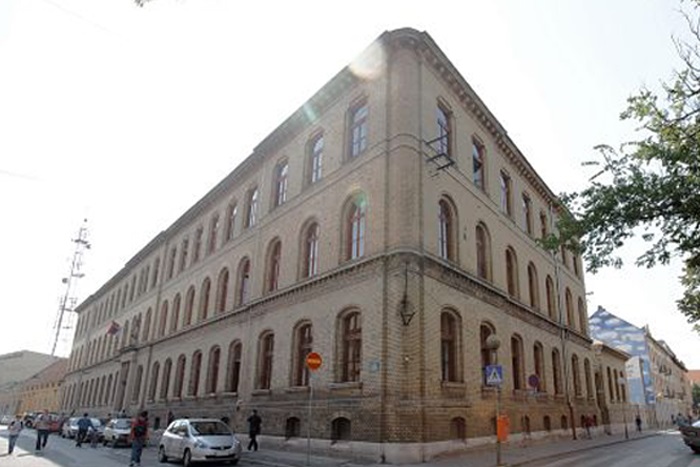 THE WINNER OV VUK'S PRIZE FOR THE YEAR 2016
Student and teacher representatives attended the 53rd formal granting of The Vuk's award for the year 2016 held in The Embassy of Republic of Serbia on the 8th February. The Sombor Grammar School was granted this pestige national award with an axplanation that read: "Coming closer to the meaningful jubilee that is 150 years since its foundation, Grammar School "Veljko Petrović" has become an open and modern educational institution and better-known to the wider public, as much for its innovative and creative class programs as for its numerous extracurricular activities and competitions in which the students have shown exceptional results.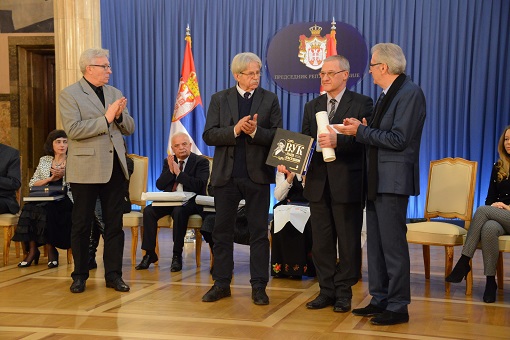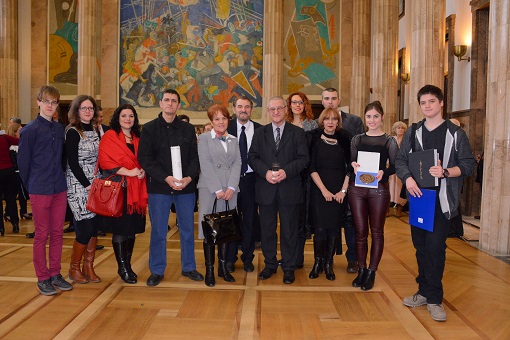 EXCEPTIONAL RESULTS OF OUR STUDENTS
• The students of the grammar school in Sombor have been successful at the republic level of school competitions and international Olympiads. First three places throughout the school year of 2016/2017 were won by more than 50 students. That makes abou 10% of the total number of students.
• Special credit goes to Andrej Kukuruzar, the best student of his generation: he won the 3rd place in the republic level of the competition in chemistry, in the Serbian Chemistry Olympiad, he won the 1st place and went on competing in the World Chemistry Olympiad held in Thailand, where he also won a bronze medal, repeating his success in the last year's competition in Georgia. Besides that, Andrej also won 2nd place at the repubic level of the competition in physics.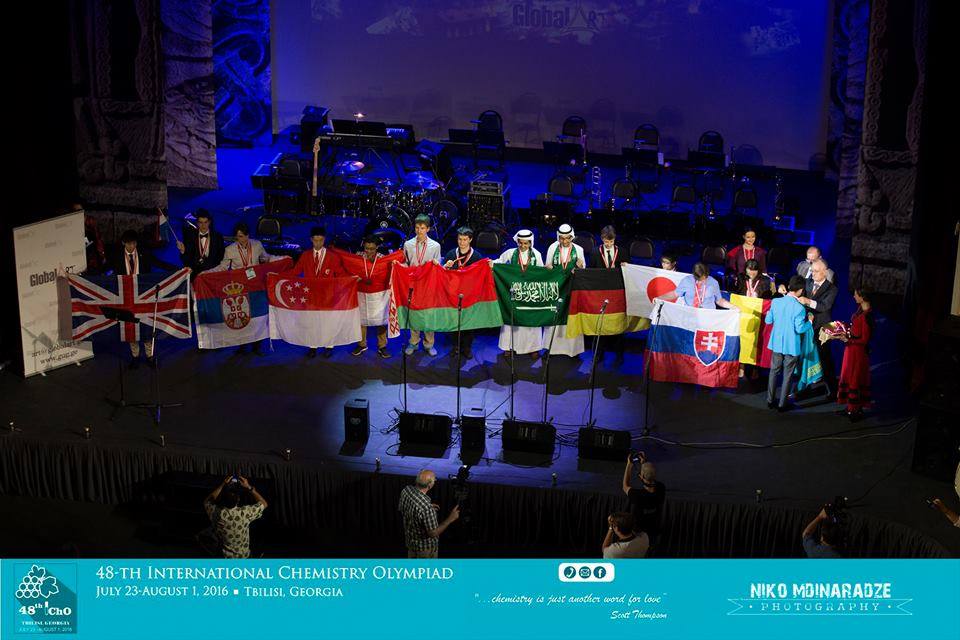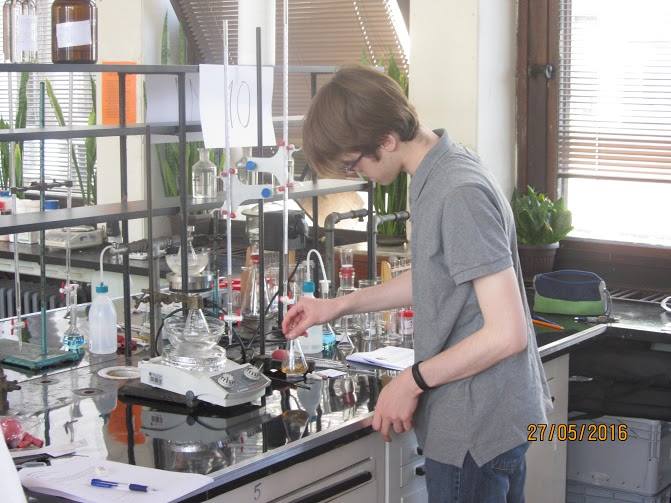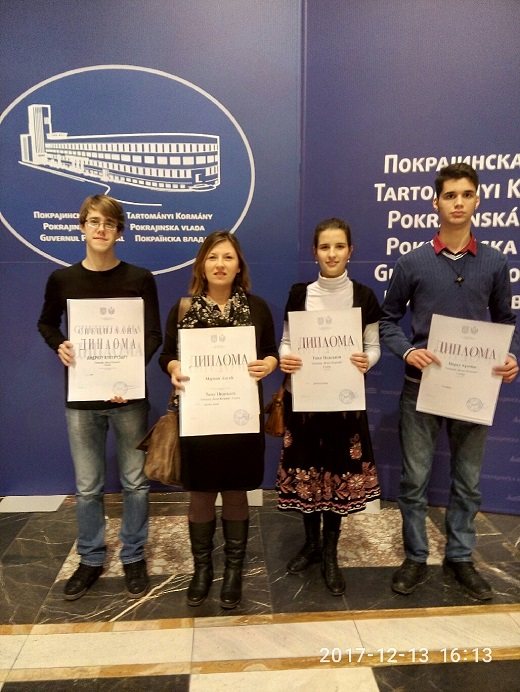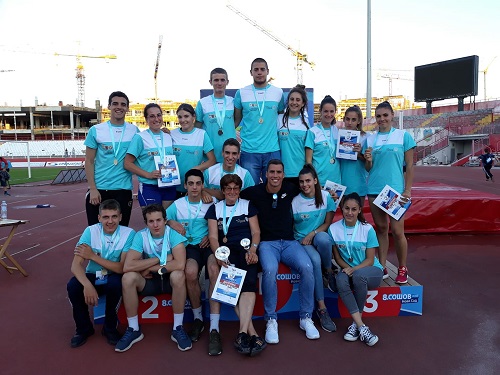 WHAT BRINGS OUR GRAMMAR SCHOOL TO THE LIST OF THE BEST HIGH SCHOOS IN SERBIA?
Besides the exceptional success of our students in competitions, what brings our grammar school to the list of the best high schools in Serbia is the next statistics:
-around 90% of students who graduate our grammar school enter college
-around 80% enrolled in the college they wanted
-around 60% of our students have partial scholarships
PROGRAMS IN OUR GRAMMAR SCHOOL
• Natural and mathematical sciences (60 students)
• Social and linguistic sciences (90 students)
• General program (30 students; in Hungarian)
• Program for students with special abilities for computer sciences (20 students);
OTHER ADVENTAGES OF OUR GRAMMAR SCHOOL
• Quality educators (all teachers have graduated an adequate college)
• The School is well-equipped. Most importantly, it has: three computer classrooms, it's connected to the wireless internet which is available in almost every classroom, the school has a student club with a library and a reading room, the school has projectors which are often used in classes, the school has a brand new, big gym.
• The school provides students with continuous additional classes (for students who need more help and for those who want to learn more) and classes which prepare students for their college enterance exams.
• A large number of extracurricular activities: programming, football, basketball, athletics, gymnastics, handball, volleyball, chess, reciting, journalism, acting, ecological activities, climbing, industrial chemistry...
• Classes are held only in the mornings.
• The widest choice of colleges our students can choose from.
• Some classes are held outside the classrooms (The ZOO in Subotica, The astronomical observatory, "Nikola Tesla" museum, A.D. Hipol, Odžaci, Memorial house of Milan Milanković in Dalj...)
• Cooperation with many other grammar schools in Serbia and abroad
• Traditional grammar school contest;
• The school plays host to many seminars, promotions, exibitions in which participate famous and acknowledged people in their professions from Serbia and abroad.
• The grammar school is a partner in several successful projects for the young, such as: "Open mind knows no borders" –Erasmus+, EU 2017; "We want to be better-respecting intercultural differences"- The town of Sombor and The Provincial Secretariat for Education, 2016; "Fizi Bizi, the town's festival of science" –LAP for the young, the town of Sombor 2017; "5 weeks of Eco activism" –LAP for the young, the town of Sombor, 2016 and The young rule, The Ministry of Youth and Sport, 2017; "Camp without borders" Kanjiža - The Provincial Secretariat for Education, 2017; ''Természet közeli élmények a Tisza és a Duna-mentén'' - HATÁRTALANUL!, The Ministry of Human Resources, Hungary, 2017;
• Our students participate every year in a large number in the unique school ecological rowing expedition and in that they take great pride.
• The status of membership in the PACHS system of schools (Partner Ausland Schule) enables our students to, without any cost, prepare themselves for taking an internationally acknowledged German exam. If one passes this exam, it enables him/her to get a scholarship and continue to study in Germany and/or Austria.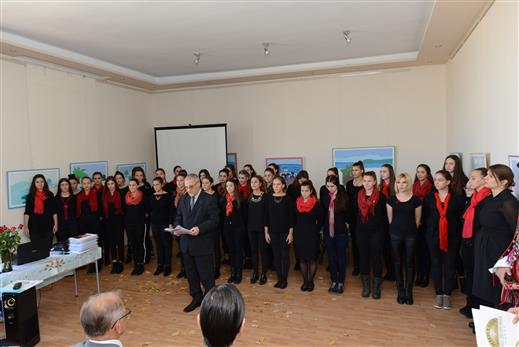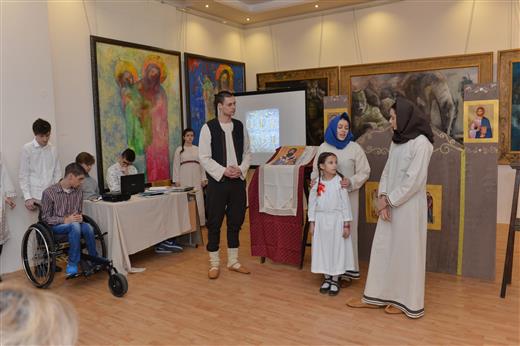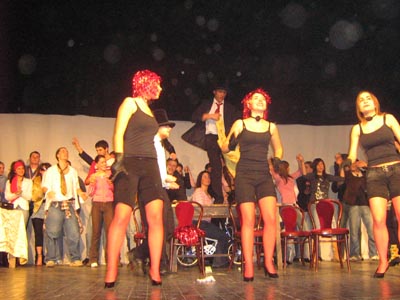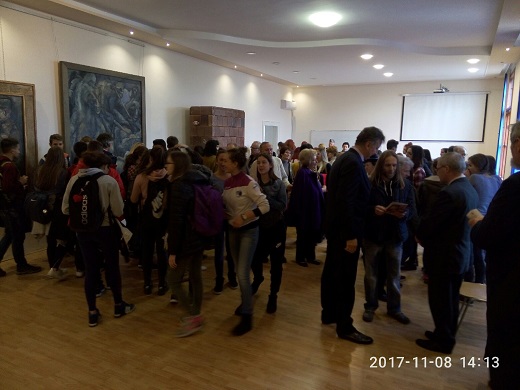 MAKE THE RIGHT CHOICE AND DECIDE
If you think you have a great foreknowledge, developed working habits, if you think you are ready to take on more obligations and if you plan to go to college (in the country or abroad) after graduating from high school, Grammar School "Veljko Petrović" is the best choice for you.
You too could be a scientist, a doctor, a judge, a professor, a lawyer, a pastor, a writer, a journalist, a film director, as were other successful students of the grammar school in Sombor.